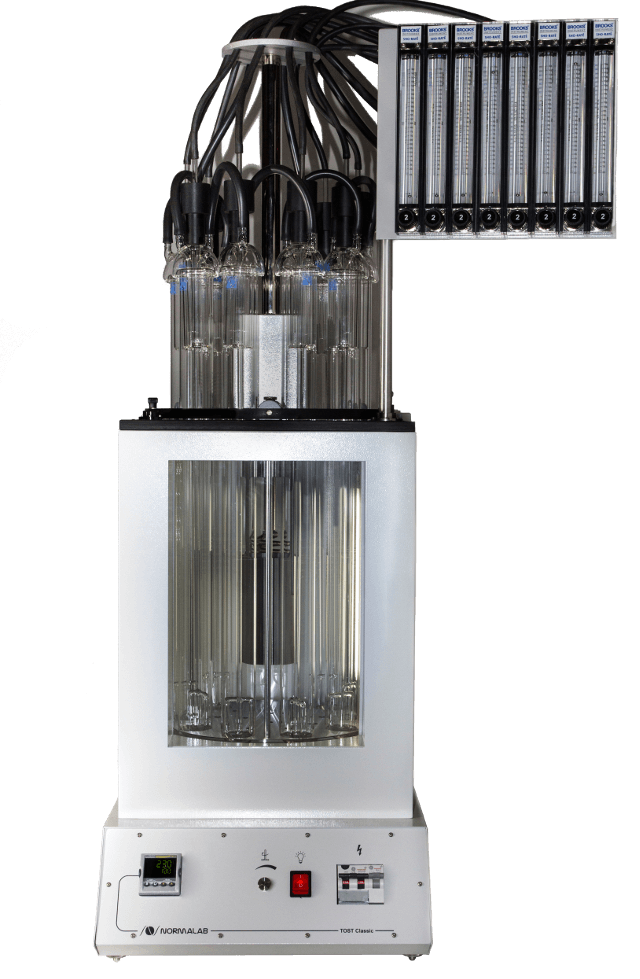 OXIDATION CHARACTERISTICS OF INHIBITED MINERAL OILS,
TOST CLASSIC
Normes : ASTM D 2274, ASTM D 2893, ASTM D 4310, ASTM D 943, DIN 51587, IP 157, ISO 4263
Description :
The oxidation characteristics bath is a 8-place unit. User can select suitable accessories according to its needs and get a custom instrument. Glassware and option list available upon request.
Characteristics
8 positions units
bath liquid capacity : 30 liters
bath temperature from ambient to 125°C
digital temperature display
Accessories
Test container
Mushroom condenser
Oxygen delivery tube
Delivered with
° 1 thermometer ASTM 40 C*
without flowmeter nor glassware
Technical data
Power Supply : 230V, 50Hz, 16A
Dimensions : 610x450x1100mm
Weight : 40kg
Recommendations
Gas pressure (bar): 0,5 bars max compressed air or oxygen (depending on the ASTM method)
Fluid: 30L Silicon oil
* Without certificate – Price on request
Digital thermometer available on request
Documentation
D943_TOST Classic ENG leaflet