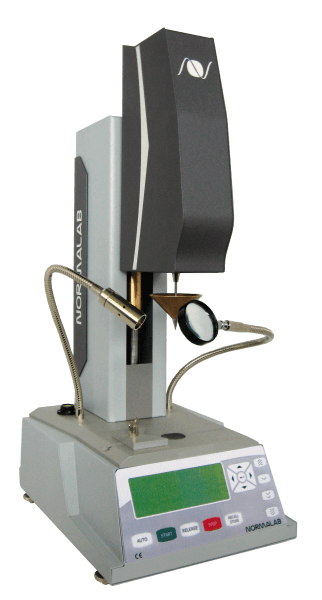 Penetrometer
NPN TECH
Normes : ASTM D 1321, ASTM D 1403, ASTM D 217, ASTM D 5, ASTM D 937
Description :
Automatic penetrometer, the NPN Tech is a compact unit. The device is able to measure automatically the penetration value of the sample.
With an auto-electronic detection of depth penetration (optional accessories), the NPN Tech is used for consistency and resistance determination of pasty, creamy, semi-solid or highly viscous samples.
Characteristics
• Stepper motor for penetration depth as low as 0.01 mm
• Programmable Penetration time between 0 and 999 min
• Range : 0 to 75 mm (result in 1/10mm)
Features
Depth penetretion is given by auto-electronic detection. The accurate results make an average calculated based on the automatic adjustment of the detection. The software allows programming and calibration. The data acquisition can easily be done with a ticket printer or with PC connection in PDF files.
For repeated use, you can add 4 programmable reference positions. Penetration time can be adjusted between 0 & 999 min. 4 mobile head positions can be memorized.
Compatible with many accessories, the NPN Tech allows to connect different shaped test body for penetration test depending on the sample:
– Cone
– Needle
– Micro-cone
– Other on request.
Accessories
Grease worker for ASTM D217
Delivered with
• Magnifying lens
• Low voltage illuminator
• Holder
Technical data
Power supply: AC 230 V, 50/60Hz – 1 A
Dimensions: 720 (W) x 250 (D) x (H) 330 mm
Weight: 16 kg
Recommendations
An incubator is necessary for the conditionning of the sample and to maintain the sample at temperature during the test.
* Calibration on request
Documentation
D5_NPN-Tech_942734-Leaflet19_ld

Related products