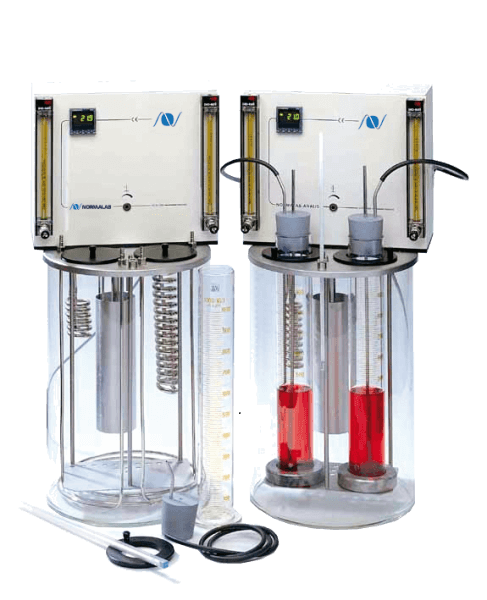 FOAMING CHARACTERISTICS OF LUBRICATING OILS
FOAM 1 & 2 Classic
Normes : ASTM D 892, IP 146, ISO 6247
Description :
The Foam instruments are used to detect undesirable foaming characteristics  in lubricating oils, which could cause inadequate lubrication, overflow and cavitation.
To avoid mechanical failure, the test measures the foaming characteristics of lubricating oils at different temperatures by empirically rating the foaming tendency and the foam stability.
Characteristics
For sequences I, II, III,
Single test unit
Test at 24 and 93.5°C once at a time
Features
Foam performs two tests at 24°C and two tests at 93,5°C. The instruments are equipped with 2 heat resistant glass jars (with temperature controller), 2 flowmeters, 2 cylinders (1000 ml), immersion heater, stirring system air delivery tubing and thermometer. Cold bath has built-in coils for circulating exit air from the high temperature test cylinders.
Accessories
Cryostat is necessary, only for a test at 24°C –
NDW Tech
Delivered with
– 2 diffusers,
– 2 test cylinders
– 2 flowmeters.
Technical data
Power supply : 230V, 50Hz, 16A
Dimensions : 680x340x770mm
Weight : 36kg
Recommendations
Fluids for both baths : 30 L of water for the bath at 24°C and 30 L of 10cSt silicon oil for the bath at 93,5°C
Bath capicity 30 liters
Methanol for cryostat
Compresse Air : Compresse dry air without particles : 95 +/- 5mL/min
*Certificate on request